buy A new book published by the Friends ALL IN SUPPORT OF THE FRIENDS!
poems, prose and pictures, etc. enjoy free programs at our NEWLY renovated library, MANY SPONSORED BY THE FRIENDS.

Scroll down for description of upcoming friends fundraisers and Library events.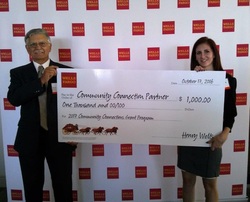 Karl Varnai, FOL Board President - Elect is accepting a grant for the Friends, from Wells Fargo branch manager.
Thank you Wells Fargo.
---
the FRIENDS FUNDRAISERS & events......

Contributing authors/artists:

Cathy Begg
Susan Gerardi Bello
Ellen Bordner
Larry Bullock
Lyn Crain
Susan Czarecki
Jay Eisenberg
Melanie M. Eyth
Jennifer Fritch
Barry Gross
Mandee Kuenzle Hammerstein
Madeleine Best Henn
Robin Heydenberk
Owen C. B. Hughes
Mary Jo Jerome
Tim Jost
Hester Kamin
Margaryta Kenis
Christopher Kennedy
JaQuinley Kerr
Pamm Kerr
Bob Krist



Bambi Kuhl
Corinne-Valerie Marin
Anita Maximo
Mary Jo Michaels
Amanda Midkiff
Vera Mills
Greg Nanni
Steve Nolan
Edward Petersen
Rif
Joseph Rogers
Susan Rogers
Alan Rosenberg
Rhoda Rogers Sakulich
Mark Schardine
Trevor Schaible
Sara Scully
Roy Word Smith
Wendy Fulton Steginsky
Cleveland Wall
Chuck Whitmore
Matt Wolf
Andrew Zourides

---
WINNER OF OUR MANOFF MARKET RAFFLE BASKET WAS.....Jim Ouimet.
CONGRATULATIONS JIM!

---
Harvest Moon Square Dance was a success!
The Friend's Harvest Moon Square Dance took place on September 10, 2016 at Hope Ridge Farm in New Hope, thanks to owner Hugh Marshall's generous support.

Though the day was hot, the evening cooled off and attendees were able to enjoy the music of the Long Hill String Band, the dancing led by expert caller Sue Dupree, the food provided by area food establishments, and refreshments that included beer, wine, and soda.

A highlight of the evening was the cookie contest. Local Realtors provided the cookies, and those attending voted for their favorite. In a close contest, Val Patterson's (Kurfiss Sotheby's) shortbread cookies sandwiched with dulce de leche icing won first place. Also enjoyed were the lemon bluebarb bars by Alison Kingsley (Addison Wolfe) and rosewater-pistachio meringue bites baked by Dee Bowman (Berkshire Hathaway Fox & Roach). Kim Ward Bacso (River Valley Realty) was unable to enter her Elvis's Birthday Cookie (banana and peanut butter) as planned, but nevertheless brought chocolate-swirl coconut macaroons for all to enjoy. In addition, Friend of the Library Carol Spencer baked brownies, also much enjoyed.



The 11 establishments that donated finger foods were Bitters Bob's as the major sponsor, and the following:

Colonial Farms Gourmet Foods Dilly's Corner

DiNapoli's Italian Specialty Deli & Caterer Duck Soup Café

El Taco Loco Havana

Homestead Farm Market Manoff Market Gardens

Shopright of Flemington Sycamore Grill

Karen Seehausen provided floral decorations, Neil Gallagher tended bar, Steve O'Neill helped with parking, and CJ Lonoff helped with selling raffle and 50-50 tickets.

Friends members who helped plan this event included Lawrence Booth, Rickie Fisher, Neil Gallagher, Charlie Huchet, Pamm Kerr, Kathy Meier, Kris Reilly, Karen Seehausen, Carol and Paul Spencer, and Elizabeth and Karl Varnai.


---

Check out the library's events. Visit The Free Library of New Hope and Solebury Upcoming Events for programs such as
SCHOOL HOLIDAY SPECIAL: MAD SCIENCE
Monday, October 10 at 11am
Grades K and up
It's October and things are starting to get creepy in the library! Join us for some spooky science experiments featuring dry ice Free.
Register
CRAZY 8s MATH CLUB
Begins Tuesday, October 11 from 4-5pm
For grades 3-5. Find out how much fun math can be with this 8-week program led by Miss Darcy. Play games, solve puzzles and do experiments. All skill levels welcome. Please register.
Register
SOUTH JERSEY GHOST RESEARCHERS
Thursday, October 13 at 7pm
When things go bump in the night, who ya gonna call? South Jersey Ghost Researchers provides a fascinating look at the work of a ghost hunter. This lecture covers the different elements of ghost investigating as well as the types of equipment used during our investigations. Free.
Register
MICHELLE DJOKIC IN CONCERT

Saturday, October 22 at 2pm The Concordia Chamber Players cellist performs Bach's sixth suite. Free. No registration required, just come and enjoy!
HACK THIS ART: CELEBRATE THE DAY OF THE DEAD
Monday, October 24 at 3pm
For teens ages 11 and up
Explore the colorful art of Mexico's El Dia de Los Muertos -- The Day of the Dead with Philadelphia Arts in Education Project artist-in-residence Cassandra Gunkel. For students grades 6 through 12
Register
AN EVENING WITH MARY SHELLEY
Tuesday, October 25 at 7pm
Who can deny that the tragic tale of Dr. Frankenstein is one of the most disturbing ever written? Karla Kay Shantz portrays Mary Shelley, the author of the infamous gothic horror. Free. Sponsored by the Friends of the Library.
Register

The Friends of the Free Library sponsors many of the library's programs through fundraisers and memberships.
---
---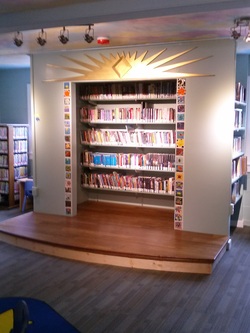 The new children's stage in the newly renovated New Hope & Solebury Library! Built by our own Friends volunteers, Paul Spencer and Karl Varnai.
---