---
Scroll down for descriptions of upcoming Friends fundraisers and your Library's programs.

---
COMING SOON....CHECK BACK OFTEN!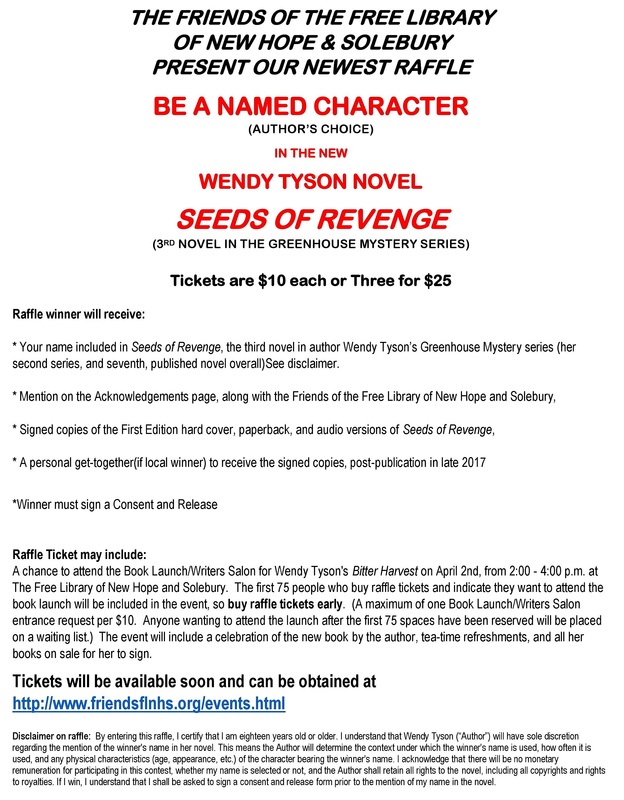 ---
---
In other news.......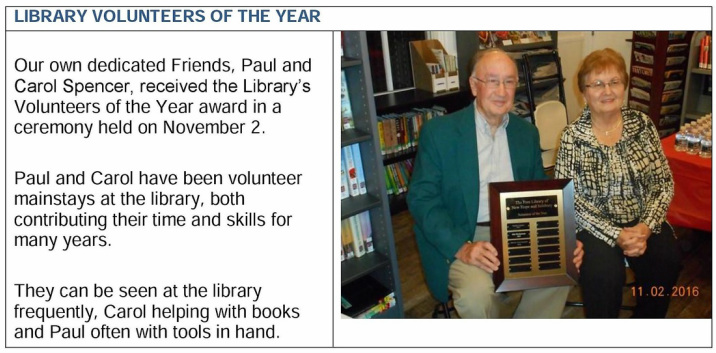 ---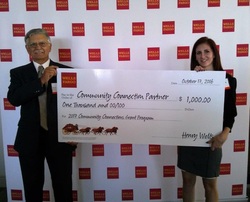 Karl Varnai, FOL Board President - Elect is accepting a grant for the Friends, from Wells Fargo branch manager.
Thank you Wells Fargo.
---
---
Harvest Moon Square Dance was a success!
The Friend's Harvest Moon Square Dance took place on September 10, 2016 at Hope Ridge Farm in New Hope, thanks to owner Hugh Marshall's generous support.

Though the day was hot, the evening cooled off and attendees were able to enjoy the music of the Long Hill String Band, the dancing led by expert caller Sue Dupree, the food provided by area food establishments, and refreshments that included beer, wine, and soda.

A highlight of the evening was the cookie contest. Local Realtors provided the cookies, and those attending voted for their favorite. In a close contest, Val Patterson's (Kurfiss Sotheby's) shortbread cookies sandwiched with dulce de leche icing won first place. Also enjoyed were the lemon bluebarb bars by Alison Kingsley (Addison Wolfe) and rosewater-pistachio meringue bites baked by Dee Bowman (Berkshire Hathaway Fox & Roach). Kim Ward Bacso (River Valley Realty) was unable to enter her Elvis's Birthday Cookie (banana and peanut butter) as planned, but nevertheless brought chocolate-swirl coconut macaroons for all to enjoy. In addition, Friend of the Library Carol Spencer baked brownies, also much enjoyed.

The 11 establishments that donated finger foods were Bitters Bob's as the major sponsor, and the following:

Colonial Farms Gourmet Foods Dilly's Corner

DiNapoli's Italian Specialty Deli & Caterer Duck Soup Café

El Taco Loco Havana

Homestead Farm Market Manoff Market Gardens

Shopright of Flemington Sycamore Grill

Karen Seehausen provided floral decorations, Neil Gallagher tended bar, Steve O'Neill helped with parking, and CJ Lonoff helped with selling raffle and 50-50 tickets.

Friends members who helped plan this event included Lawrence Booth, Rickie Fisher, Neil Gallagher, Charlie Huchet, Pamm Kerr, Kathy Meier, Kris Reilly, Karen Seehausen, Carol and Paul Spencer, and Elizabeth and Karl Varnai.


---

Check out the library's events. Visit The Free Library of New Hope and Solebury Upcoming Events for programs such as

CRAZY 8s MATH CLUB
Begins Wednesday, February 15 at 4pm

For grades 3-5
Crazy 8s is a recreational after-school math club that helps kids enjoy the math behind their favorite activities! Sign up for all eight meetings beginning February 1!
ESSENTIAL OILS: BUST THE WINTER BLUES
Thursday, Feburary 16 at 6pm

Learn the foundational oils for supporting strong immune systems, respiratory support and easy breathing, soothing sore throats, dry winter skin, and more. Create your own essential oil blend to start using at home right away! Sponsored by the Friends of the Library.

PLAY K CIRCLE TIMEFriday, Feburary 17 at 1pm

For ages 3-5 with caregiver
Join us for a fun Play K circle time where children will learn social skills and engage in activities that will get them ready for Kindergarten. After 30 minutes of listening to and discussing themed stories, the children will have the opportunity to play with the themed Playscapes.
LEAP INTO SCIENCE
Friday, February 243:30-4:30pm
For families with children grades 3-5
Join us for a drop-in style program created by the Franklin Institute where families work together to engage in activities and explore books related to science.
IN CONCERT: MARC BERGERFriday, March 3 at 7pm
A bit of the West comes to New Hope as Marc Berger brings his music to the library. Marc's performed at Austin's South by Southwest Music Festival and The Kerrville and Falcon Ridge Folk Festivals and has opened shows for Bob Dylan and other national acts. The program is free thanks to the generous support of the Friends of the Library.
BILINGUAL STORY TIME
Saturday, March 4 at 10:30am
Miss Daisy of the Sociedad Hispana Doylestown presents stories in Spanish and English. All are welcome. No registration required.
WOMEN'S HISTORY MONTH: ALICE PAUL AND THE SUFFRAGETTES
Thursday, March 9 at 7pm
Actress Alisa Dupuy brings the dedicated women's activist to life in this historical interpretation. Sponsored by the Friends of the Library.
LEARN THE UKULELESaturday, March 11 at 2pm
All ages
Members of Simple GIfts World and Folk Music will be on hand to teach the basics of the ukulele. Instruments will be provided. No experience necessary.
PROTECT YOURSELF FROM IDENTITY THEFTTuesday, March 21 at 2pm
Mike Bannon of the Bucks County Department of Consumer Protection offers ways to prevent identity theft.
The Friends of the Free Library sponsors many of the library's programs through fundraisers and memberships.
---
---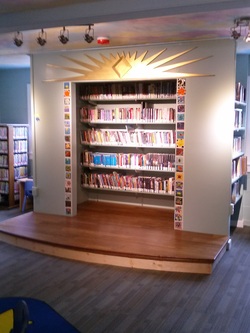 The new children's stage in the newly renovated New Hope & Solebury Library! Built by our own Friends volunteers, Paul Spencer and Karl Varnai.
---